Jan-26-2013 By Barbara Zak
For the earth-lover in your life (even though earth-lover should apply to everyone who wants to continue living here), no matter what the occasion is, going green with your giving makes you automatically cooler than the people who give boring, banal, regular gifts. No matter who you're in the market to gift there are some green goods for them. Birthdays, anniversaries and holidays . . . there's only so many pairs of socks you can give . . it's time to mix it up a bit.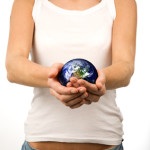 For Nerds
One of the coolest, and actually affordable, gift ideas we have come across in a long time is the Instean LED light bulb. It sounds boring, but it's the first light bulb on the market that has ever been network connected, and your beloved nerd probably doesn't have it yet. It's only $30, and it's controlled by a remote control on your smart phone that can be controlled from anywhere. This device can be hooked up to a single bulb, or connected to groups of bulbs. . . it's the most high-tech way to achieve ambient lighting (or spook someone into thinking your place is haunted).
For Food Lovers
George Washington Carver said live at home, but unfortunately most of us aren't even close to being self-sustainable. Enter Urban Farmer's Mushroom growing kit. For only $25, this little beauty can hang on a wall or be set on a surface, and it looks really cool. True foodies should appreciate a good mushroom, and a good mushroom is hard to find. The best part of this set-up is that it yields at least two pounds of mushrooms in less than 10 days, and the soil is made from recycled coffee grounds.
For Fashionable Femmes
Noted environmentalist Stephen Dent recommends that we all do our best to wear clothing made out of natural fibers like cotton or wool, and wear recycled clothing whenever possible. For the fashionista this may sound like a really boring fashion sentence, but it doesn't have to be. Sites like Fairtribe.com feature a host of gorgeous garments fit for an earth-friendly queen. You can find stunning threads like the Lotus Tunic Dress for only $55, or the Go With Everything reversible tulip skirt for only $63 . . . the possibilities are endless, and green clothes make your body and your conscience look and feel good.
For Animal Enthusiasts
People who love animals are the best people. Anyone who loves animals knows this fact to be true. For these people there's BirdProject Soap. A whopping half of the proceeds go toward benefiting the Gulf Restoration Network and International Bird Rescue. The soap is lovingly made from biodiesel glycerin, Fair Trade olive oil, and local ingredients from New Orleans. After the soap is used, it reveals a small white porcelain bird hiding underneath. The artists want their delicate soap to be a potent symbol of restoration and recovery" from the oil spill. For $24, this heartfelt gift gets our vote.
Comments Off

on Green With Envy No More: The Best Earth-Happy Gifts