Nov-17-2012 By Barbara Zak
This is a Sponsored post written by me on behalf of Walmart for SocialSpark. All opinions are 100% mine.
The holidays are quickly approaching, times of merriment and gathering, reconnecting with those you love, and those in need of love. And, even though the spirit of Christmas may be some time off, opportunities to be charitable never take a holiday.
However, while the thought of supporting a local non-profit organization that strikes your fancy may come readily to mind, committing the actual act itself is another test of one's generosity entirely. Money can be quite tight this time of year, even for the most charitable of individuals and families. Fortunately, the shopping industry giant Walmart has the monetary weight to throw around alongside its' equally large heart.
It is with this virtuous goal in mind that a new charity drive under Walmart's blue and yellow banner has been set into motion. Dubbed the "12 Days of Giving", the shopping juggernaut is providing its' customers a chance to be charitable without breaking their own bank.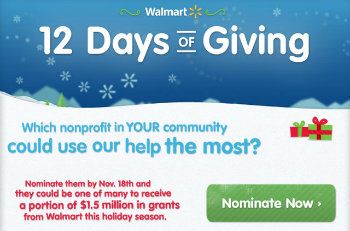 Throughout the wintery chill of the holiday season, Walmart will be giving out $1.5 million dollars in grants, as well as various "basic needs" items such as food and clothing, to local communities and the eclectic collection of peoples that define them. But this act of selfless donation isn't necessarily directionless; those armed with a basic Internet connection and a Facebook account can focus their attention towards non-profit organizations they feel warrant the support, ones with big ideas and goals but not the budget to match.
A chance to put a perpetually-struggling non-profit organization in the black for once?
Yes, it can be a reality, though for organizations that are more locally-oriented, the minds behind such righteous pursuits are seldom free of the looming threat of debt and potential bankruptcy on their way towards making the world a better place. But this is your chance to give a long-deserved sigh of relief to those who deserve it most.
Charitable opportunities such as this do not come around often, especially those which don't cost your personal wallet a single dime. If you have a local non-profit organization you would like to support through these giving times, letting your voice and the story that accompanies it be heard is a super-simple process. All you need to do is visit Walmart's "Live Better" application on their Facebook page, located here:
http://walmarturl.com/YSf01nJ.
Once on the page, click on the frosty "Nominate Now" button to open the respective 12 Days of Giving Nomination Form a little way's down the page. The form itself is very brief, so don't worry, you won't be filling out paperwork all night to have your voice heard.
You will need to know the non-profit organization's name, contact info, and website, so coming prepared with the right information can cut down a few minutes of potential research on your end. You can also include a photo related to the organization that you find best suits them, pinning a face (or perhaps just a building) to the busy men and women struggling to make the world a better place for all.
One of the final form sections to fill out is a bit more personal than the rest. It asks you how, exactly, your chosen non-profit organization benefits your community, and the impact they have on the lives they touch. I, personally, chose to direct attention to the ALS of Nevada society, largely due to the experiences a close friend of mine has had with her mother.
From what she has told me in the past, the responsibility of the wellbeing of all those with this utterly horrible illness in her area fell almost solely on the weighted shoulders of a team of three women. Due to truly hard times in Nevada, now there is just one woman covering the entire state.
Just think about that for a second.
One person to help hundreds if not thousands afflicted with an incurable, and ever-worsening disease. Every day could have been the last for ALS of Nevada, yet still endless hours each day are filled helping those in dire need. ALS of Nevada is praised by those they help, those they assisted; if only temporarily. For without their care and attention, these unfortunate souls would likely perish far faster if left without support.
A chance to grant a much-needed monetary boost to such an organization seemed like a sound investment to me.
As mentioned before, a Facebook account is required to pin a name and face to the yarns spun and companies suggested, but really, who doesn't have a Facebook account these days?
This opportunity will only run until the 18th of this month, so don't hesitate to have your voice be heard!
After you've finished casting your choice, be sure to come back here, leave a comment, and share the organization you're putting your support behind.
Doing good always feels better when you know others are doing the same. Let's make these holidays something to cherish instead of dread for the miracle workers of the world!