Nov-10-2012 By Barbara Zak
Experience Sky Factory's Biophilic Illusions of Nature at Greenbuild 2012
The Sky Factory will exhibit at Greenbuild 2012, November 14 – 16 at the Moscone Centre in San Francisco, CA.  You can visit booth #4457N to experience eScape™, the new digital cinema virtual window with HD motion and sound; and a Sky Factory EcoSlim LED Luminous SkyCeiling™, the leaner, greener virtual skylight.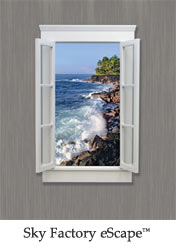 Fairfield, IA November 6, 2012 — The Sky Factory is exhibiting at Greenbuild, November 14-16th, in San Francisco. The company will showcase eScape™, the new virtual window that displays eight hours of real-time, high-definition nature sequences captured with leading-edge RED Digital Cinema™ technology; and the EcoSlim LED Luminous SkyCeiling™, a vividly realistic virtual skylight that creates a sense of openness in otherwise confined spaces. Sky Factory products bring nature's soothing presence to interior environments — image, motion and sound — a significant, researched, biophilic benefit for mind and body.
Sky Factory eScape™ is a digital cinema virtual window that features a commercial-grade HD LED screen embedded in a full-size casement window; several trim styles and finishes are available in wood and aluminum. Unedited nature scenes include tropical ocean views with dramatic surf, sunrise and sunset, waterfalls, rivers, lakes, wildlife and underwater marine life. Go here to watch a video on escapes.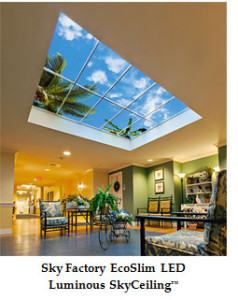 Sky Factory EcoSlim LED Luminous SkyCeilings™ are virtual skylights displayed in an ultra-thin, toxin-free, energy-efficient system. The dimmable EcoSlim LED edge-lighting system contains virtually none of the toxic elements of fluorescents, is far longer lasting (50,000 – 100,000 hour life), and costs 15% less to operate for comparable illumination. The EcoSlim lighting unit has a compact profile that uses less material to construct; EcoSlim frames are made from 76% recycled aluminum. The EcoSlim power supply was recognized by the Illuminating Engineering Society in the IES Progress Report as "a unique and significant advancement to the art and science of lighting". The LSC 24PS power system provides the first LED power supply with up to 1,500 watts capacity. It has a 24-V DC output and is capable of being dimmed. Multiple power supplies can be controlled by one dimming device.
Sky Factory reconnects people with the energizing and healing qualities of natural beauty and daylight utilizing unique architectural and biophilic design elements. Biophilia refers to human beings' instinctive, genetically based need to affiliate with nature. Sky Factory products are versatile, visually engaging tools that modify the experience of the built environment and enliven human beings' innate attraction to the natural world. These realistic illusions bring the refreshing influence of nature to enclosed spaces where access to real nature is limited or impossible. Applications include residential, hospitality, retail, office, educational and healthcare spaces.
Texas Tech University's Neuroimaging Institute has partnered with Sky Factory to research the neural effects of Sky Factory's photographic sky compositions. The first half of their research is complete. Of particular interest to Sky Factory's founder, Bill Witherspoon, is "the fact that the Sky Factory sky compositions activate areas of the brain not activated by other positive images. Sky Factory artists introduce compositional principles and elements into our sky images that insure the necessary visual cues are present to trigger a profound 'relaxation response' — the unique physiological state that corresponds to an expanded awareness and sense of inner peace and stability. We expect that additional research is likely to further link this experience of SkyCeilings™ to the biophilic engagement that is reported by end-users.
The second part of the study will compare health data from patients staying in hospital rooms with and without Sky Factory Luminous SkyCeilings™. This part of the study will conclude in late 2013.
Sky Factory is an AIA Continuing Education System (AIA CES) Registered Provider, offering two free courses for AIA credit: Illusions of Nature in Architecture and Sustainability, Biophilia, and Illusions of Nature. The courses are available both as live webinars and online download. To learn more, visit www.SkyFactory.com/education/
About The Sky Factory
The Sky Factory, LC is a unique fine art and technology company that creates realistic Illusions of Nature™ – virtual skylights and windows – that transform interior spaces. Founded in 2002 and based in Fairfield, IA, the company is factory-direct with International Partners representing 50 countries. Sky Factory was named one of Inc. Magazine's Top 20 Small Company Workplaces 2010 and was recently featured as the Wall Street Journal's Workplace of the Day.